Lite-Deck® Construction for Maintenance-free, Lifelong Outdoor Space
With the popularity of maintenance-free decks and porches on the rise, make sure Lite-Deck® systems from Benchmark Foam are on your list. Lite-Deck® systems are lightweight, stay in place forms made of expanded polystyrene (EPS) which provide structural strength and quality insulation in one step for site-cast or precast concrete decking and other applications.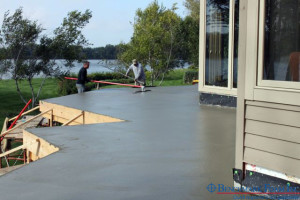 Lite-Deck® can be used with built-in steel or wood attachment points, depending on installer preference and construction type. Both forming systems have the necessary elements to save energy, time, labor and materials. Installers at every experience level – commercial contractors to DIY-ers (do-it-yourself-ers) have found success using Lite-Deck®.
Customers that have used Lite-Deck® to build elevated decks or wrap-around porches have been elated
with the finished look and lifelong benefits.
For your next deck or porch project, call our team at 800-658-3444 to learn how Lite-Deck® can provide a sustainable, maintenance-free outdoor living space that does not rot or mold – and will save you from staining upkeep and pesky slivers!