Benchmark Foam Introduces Insul-Skirt for Recreational Vehicles
In October 2010, Benchmark Foam, Inc. announced the production of Insul-Skirt, a reusable skirting for recreational vehicles. Manufactured from expanded polystyrene (EPS), Insul-Skirt provides excellent R-value to protect from heat loss or cold penetration as does Benchmark Foam's ThermoSkirt for permanent installation.
Because protection from the elements during colder months is always a concern for travel trailers, motor homes, campers and other recreational vehicles (RVs), effective, dependable skirting has been in demand by a variety of consumers – from "snowbirds" who migrate south for the winter to oilfield workers who move their mobile residences as work requires. Now Benchmark Foam's Insul-Skirt provides the solution to warding off winter chill while providing sturdy dependability combined with lightweight transportation and storage.
Benefits
Lowers energy costs
Reduces cold drafts
Insulates beneath home
Easily assembled
Lightweight and easy to transport or store
Reusable/Not permanent
Track ensures rigidity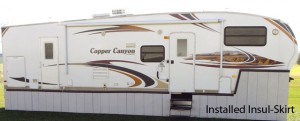 Insul-Skirt:  Available in 2″ x 4′ x 8′ sheets. All installation accessories are available from Benchmark Foam.
New Insul-Skirt fights cold while you relax in interior comfort. Contact the quick response team at Benchmark Foam today. Call 800-658-3444 or 605-886-8084 to give them your RV measurements. They will provide you with a free package estimate.