EPS 3D Candy Architectural Accents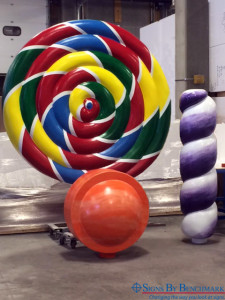 The mere sight of our bright, 3D candy architectural accent pieces not only capture the eye, but make the mouth water as well!
Created by Signs By Benchmark (a division of Benchmark Foam), the 72″ diameter four color spiral sucker is accompanied by a 30″ diameter Tootsie Pop and an 18″ diameter Twist Pip.
When it comes to our creating accents to stand alone or accompany exterior or interior signs, the only limitation is your imagination. Offer your customers a custom product designed to display unique characteristics by offering an architectural accent.
Call the Signs By Benchmark team at 800-658-3444 or 605-886-8084 to discuss your design ideas or ask for our input. Your customers will be glad you did!