Unconventional sign rounds out new clinic
Foam core an ideal medium compared to traditional materials
    New buildings call for new signage and when clientele take advantage of adding architectural elements and custom branding to its new identity sign, it is sure to stand apart. Redbud Pediatrics built a new clinic and enlisted the help of TriMark Signworks of Wichita, K.S. to help design a sign that was truly special.
    "It was important that the exterior sign was very much cohesive with their branding and the new architecture of their building," said Blake Luttrell of TriMark.
    While multiple designs were offered, the final selection featured an overall round design, approximately 6' in diameter and 2' deep. The sign appears to have layers of various finishes, one replicating the building siding and another featuring a custom design embossed into the expanded polystyrene (EPS) foam core.
    "We looked at the design and knew that these were going to be made by [Signs By] Benchmark," said Luttrell. "The overall look could be achieved at a more cost-effective approach, the installation is as simple as it can get and we believed they would achieve the appearance that our client desired."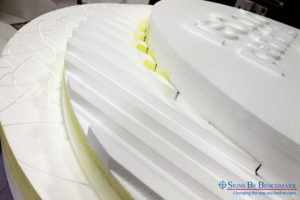 The completed sign boasts four striking colors with a stucco finish and foam lettering, all encapsulated in Signs By Benchmark signature polyurea hard coat to provide the desired durability and longevity. Shipped ready for installation, the turnkey sign was installed and beautifully landscaped in time for the clinic's grand reopening.
    "The Redbud Pediatrics staff loves the sign. The design in great, the colors are fantastic and it is refreshing when a company knows who they are and can express their individuality," said Luttrell.
    To learn more about how to help customers set their signage apart from the crowd with an unconventional or contemporary foam-core sign from Signs By Benchmark, contact our team at 800-658-3444 or signinfo@benchmarkfoam.com. Specializing in foam-core custom exterior and interior signs and components such as bases, poles, tops and architectural accents, Signs By Benchmark, a division of Benchmark Foam, helps you create one-of-a-kind signage.