Geofoam
Geofoam is closed-cell expanded polystyrene (EPS) manufactured by Benchmark Foam, Inc.  In relation to the geotechnical engineering field, it is considered a super-lightweight fill material because it is 50-100 times lighter than other so-called lightweight fill materials. Geofoam is generally defined as EPS billets used in geotechnical applications such as residential, commercial or civil in order to reduce settlements and/or improve substructure support conditions.
Geofoam Solutions for Geotechnical Applications
Geofoam is used as a lightweight fill in areas where the subgrade is too unstable and cannot carry predictable loads by means of other common fill or lightweight products.
Because of the extreme lightweight physical properties of Geofoam, it can significantly reduce stress and settlements on large earth structures.
Reducing settlements
Minimizing lateral pressures on retaining walls
Slope stability
Embankments on unstable soils
Highway insulation
Bridge abutments
Frost protection
Lightweight void fill
Tunnel projects and various underpasses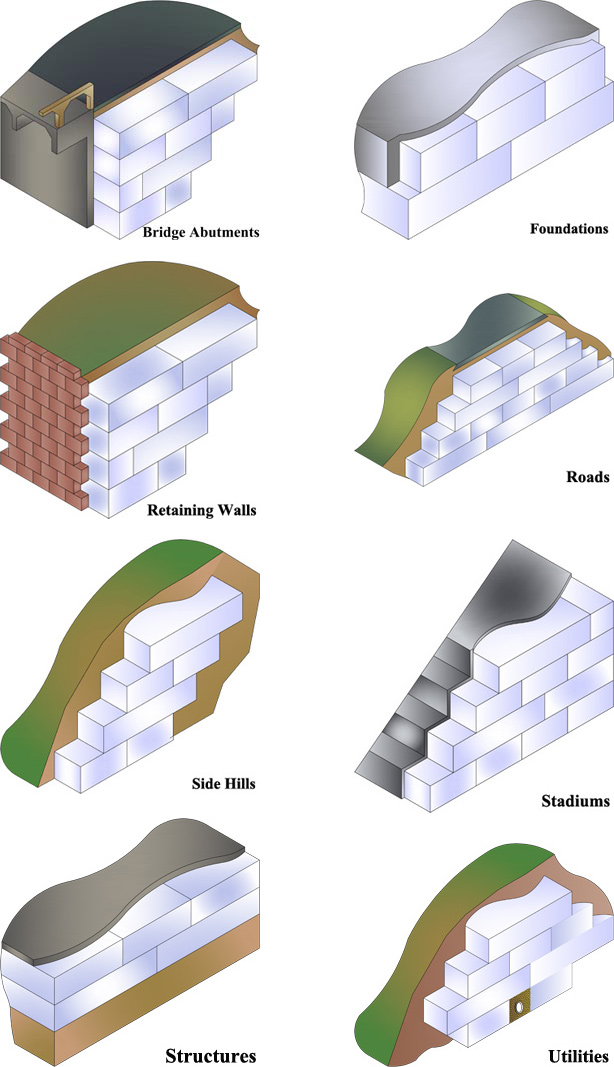 Specifications
Benchmark foam, Inc. provides Geofoam in a block form with dimensions of 36.75" x 48.5 x 97" or 194". Custom block fabrication is available in order to meet most jobsite requirements. Geofoam is also available in a range of standard specifications depending on your projects needs and is manufactured to ASTM D6817-15 guidelines.
Environmental Issues
Geofoam contains no CFC's, HCFC's or other gases that are harmful to the ozone. Geofoam is inert, non-nutritive, and very stable. It will not decompose, decay, or produce undesirable gases or leachates. Geofoam is recyclable.
Click on the links below to view, download, or print our literature 
2008 Benchmark Foam Geofoam Job, West Fargo, North Dakota 
 Click the above image to visit the Geofoam Research Center's website.
Benchmark Foam, Inc., 401 Pheasant Ridge Drive, Watertown, South Dakota 57201
Phone 605-886-8084   Toll-free 800-658-3444   Fax 605-886-8099