Revamped Boathouse Job Specifies Lite-Deck®
Benchmark Foam supplies Lite-Deck® for spanning 33 ft. boathouse project
Talk about taking a project to another level. When the original foundation of this boathouse started to show its age, the home owner decided it was time for a makeover. The boathouse was moved to allow for construction of a new, enhanced foundation using Lite-Deck® panels as specified by the project engineer.  The insulated, stay-in-place forms reinforce concrete floors, decks or roof and can clear span 40′ or more. At 33 ft., the boathouse foundation was easily spanned using Lite-Deck®.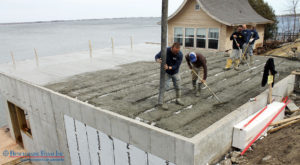 Given the location and elevation, the installation crew appreciated the lightweight expanded polystyrene (EPS) foam rather than conventional materials. Once the concrete fully cured, the foundation was prepped to place the boathouse.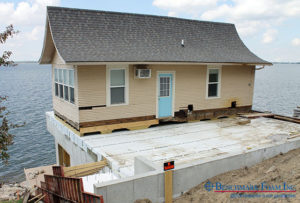 For more information on the multiple applications of Lite-Deck, contact our team at 800-658-3444 or 605-886-8084.