Benchmark Foam Releases New Thermo-Snap (patent pending) In-floor Heat Product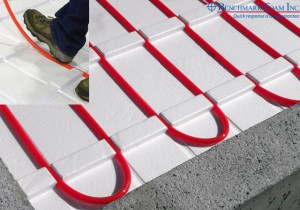 In early June 2010, Benchmark Foam Inc. revealed a new in-floor heat product that simplifies radiant tube placement while completely defeating flotation, displacement and uneven heat problems. In the past, tube installation was a costly, time-consuming, laborious chore. New Benchmark Foam Thermo-Snap™ (patent pending) changes all of that. Fabricated with 6" on-center pathways, this new product allows the installer to simply snap the tube into place. Snapping tubes into place resolves many issues for installers:
Pathways provide predetermined tube placement, eliminating time-consuming measurement activities.
Consistent tube placement automatically promotes even heating.
4' x 4' x 2" panels offer flexibility for layout and zoning.
Because tubes remain in place during the concrete pour, floating and displacement does not occur.
Minimal staple usage drastically cuts material costs.
For every 80 panels used, 1 yard of concrete is displaced, further cutting costs.
Quick, easy tube installation means less labor.
Accurate tube placement guarantees a quick, professional appearance.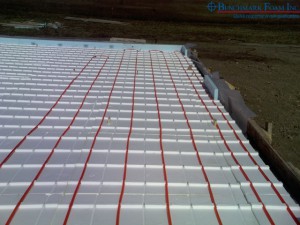 "Thermo-Snap is a product that will revolutionize the in-floor heat installation process," stated industry consultant Ian Laber of Do It Green, LLC. (Mission, SD). Participating throughout product development, Laber oversaw the Thermo-Snap™ installation pilot project.
Lloyd's Heating, Inc. of Watertown S.D. recently installed 1200 square-feet of Thermo-Snap™.
"The installation went very well," stated Scott Christians of Lloyd's Heating. "We saved a lot on costly staple consumption."
Manufactured from expanded polystyrene (EPS), Thermo-Snap™ (patent pending) acts as a thermal barrier to reduce heat loss. Maintaining long-term, stable R-values, it qualifies as a rigid foam board insulation approved by the federal Energy Star Program and contributes to LEED green building points. Call Benchmark today at 800-658-3444 or 605-886-8084 for an estimate on your current project. Remember, quick response is always our guarantee!