Advertise Business Name or Event with Signs By Benchmark EPS Foam Lettering
Lightweight, customizable EPS foam letters offer unparalleled durability
Needing options for letters that would be installed on a building exterior, Indigo Signworks, Inc. of Bismarck, N.D., knew the material would have to be lightweight. It would also have to be durable, able to withstand the ravages of weather and time.
In some cases, traditional plastic letters had proven to fade and break, so Indigo gave the Signs By Benchmark team a call to discuss lightweight expanded polystyrene (EPS) foam letters. CNC cut, sealed with a signature hard coat, and painted to endure, the coated EPS foam letters fit the bill.
"The Signs By Benchmark letters give us a lightweight option that is more durable than plastic and can be easier to work with depending on the application," said Wayne Walker of Indigo Signworks, Inc.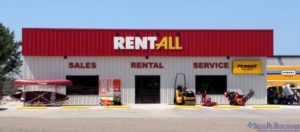 In this case, the EPS foam letters perfectly suited the application. Displaying the business name, the installed stud mounted letters stand 35 3/4″ high x 1″ deep, spanning 201″ in striking contrast against the building background. Smaller letters advertising business services were also created for installation on the building exterior.
With all the options available to advertise a business name or event, learn how letters from Signs By Benchmark can make wise use of advertising dollars. Give us a call at 800-658-3444 or 605-886-8084.
Signs By Benchmark is a division of Benchmark Foam, creating exterior and interior signs and sign accent component such as bases, pole covers, sign tops and 3D architectural accents made of EPS foam. The only company to control the sign manufacturing process from beginning to end, Signs By Benchmark gives customers the ultimate in customizing capabilities with foam-core signage.
Other lettering projects by Signs By Benchmark include: