Season's Greetings From Benchmark Foam
With deep appreciation, we wish our customers and business associates a hearty "Season's Greetings" and extend our hope to all for a productive year in 2011.
Benchmark Foam enjoyed a year of change and development throughout 2010, beginning with our move into a new building in late 2009. The increased size of our plant and enhanced equipment allowed us to expand current production while focusing on product development.
In mid-2010, Benchmark Foam introduced Thermo-Snap™ (patent pending), a revolutionary component for in-floor heating systems. Maintaining stable R-values that help block heat loss and cold penetration, this product simplifies radiant tube placement while completely defeating flotation, displacement and uneven heat problems. Labor and material costs (such as staples) are reduced as tubing is easily snapped into pathways manufactured in the expanded polystyrene (EPS) Thermo-Snap™ insulating panels.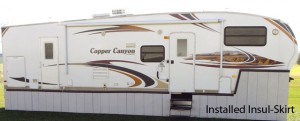 In late summer 2010, Benchmark Foam launched production of Insul-Skirt, a product for use as skirting to insulate recreational vehicles (RVs) during cold winter months. This product was developed to answer needs of construction and oil field employees who must move their homes as work requires. Durability and lightweight properties also make this affordable, easily transported or stored product the perfect solution for snowbirds who establish their RVs in a temporary winter location.

Signs By Benchmark, a division of Benchmark Foam, experienced a banner year in 2010. Its durable, lightweight composite-core exterior and interior signage was installed nationwide. Once again, the division successfully exhibited at the April 2010 International Sign Association (ISA) Expo in Orlando, Florida, then enjoyed its products being the cover feature of a second Sign Builder Illustrated magazine article.  Focusing on a collaborative project between Signs By Benchmark and Persona, Inc. the article featured signage installed for a national hotel chain. While the main body of the sign was manufactured by Persona, Signs By Benchmark created pole covers and the distinctive topper that provides an elegant, finishing touch.
"Our achievements throughout 2010 were driven by a talented, dedicated team," said Tom Devine, Benchmark Foam President. "Because of our commitment to quality products and an on-time delivery guarantee that builds customer trust, we foresee continued productivity and success in 2011."
Place your trust in Benchmark Foam. Contact our team at 800-658-3444 or 605-886-8084 to discuss your upcoming projects. Our products can meet your needs, whether it be Thermo-Snap™, Insul-Skirt, signage, or our traditional products such as insulated concrete forms (ICF) , commercial and residential insulation, architectural shapes for Exterior Insulation Finishing Systems (EIFS), roofing insulation, geofoam, or custom molded packaging.