What Our Customers Say
"Once our customers start using Thermo-Snap, they use is regularly because it is so user friendly and as the manufacturer, Benchmark is very accommodating to work with." – Mike, Fort Dodge, IA
Needing an exterior sign that wouldn't fail to catch the eye, Signs West of Austin, Texas called Signs By Benchmark (a division of Benchmark Foam). The result of this collaboration was a colorful custom design featuring staggered elements to add depth and architectural beauty.
"The end customer loves the sign," said Dub Paden of Signs West. "They own many properties and will be doing multiple signs like this one in the future."
After witnessing the cost effective success of Benchmark Insulated Concrete Forms (ICFs) in other local projects, homeowner Chad DeBlieck chose Benchmark Foam to supply the ICFs for his family's new home construction. DeBlieck is familiar with Benchmark ICFs as he is the manager of a Benchmark ICF distributor.
"[It's a] great experience with Benchmark," said DeBlieck. "We sell them because of the quality and service of the people who help with the estimating, design and delivery of the product."

Benchmark Foam had the opportunity to "return the favor" when a loyal customer, who typically gives plenty of lead time, needed an urgent order. The order was for more than 6000 pieces of a custom-cut expanded polystyrene (EPS) packaging product. The EPS packaging material ensures the new condition of Larson® Storm Doors during transit. The urgent order was delivered two days later, as agreed upon for the On-Time Delivery Guarantee, which allowed Larson to continue shipping their products without interruption.
"Benchmark is a valued partner for Larson," said Troy Bunker of Larson®. "Their product quality and commitment to customer service is a perfect fit with our strategic objectives.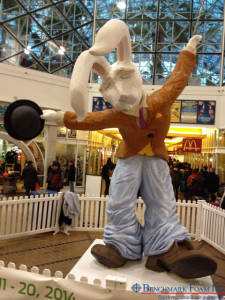 For years, Kim McComb and Mike Dillon have been creating an EPS expanded polystyrene sculpture for "Winterfest" at the Navy pier in Chicago. This year, their sculpture of choice was that of a spunky rabbit, "Charlie Cottontail".
"Winterfest is a huge festival that runs through December and into January", said sculptor Kim McComb. "They usually get about a million people to attend. We are hired to promote the big snowsculpture event in January. It's a lot of fun and gives us a chance to do a piece of sculpture on a grand scale. I'm really not sure how tall he is, but his cane reaches between 20 and 25 feet up there. Your company has been great. You take care of everything, get it there on time, and don't mind answering my goofy questions."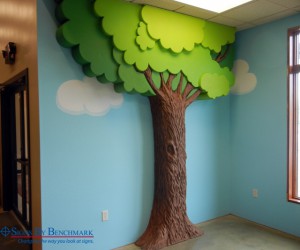 Hometown Building Center in Watertown, S.D. wanted something special when planning their new Kids Zone play area. So they asked Signs By Benchmark (a division of Benchmark Foam) to create two 8′ EPS cellular plastic replica trees.
"Everyone comments on how bright and cheery the trees are – and how they add to the fun of the children's area," said Lori Storley of Hometown Building Center. "We're very pleased with the trees. They certainly exceeded our expectations."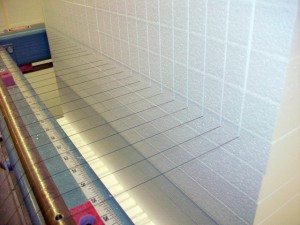 Benchmark Foam's On-Time Guarantee from Benchmark Foam was put to the test when a long-standing customer PBM Packaging called needing more than 200,000 custom fabricated parts right away. Within 24 hours of receiving the order, the Benchmark team had more than 20,000 parts ready to go – with more on the way. The rest of the 200,000-part order shipped the following week, in time to help PBM Packaging keep rolling out its own materials.
A PBM Packaging Representative had this to say:  "Their [Benchmark Foam's] service is great. They're always willing to do what needs to be done."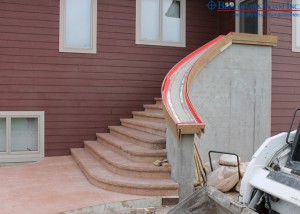 A.J. York Construction rose to the challenge of constructing exterior curved concrete stairs for a customer by using two of Benchmark Foam's products.
"We used Benchmark Foam's ICF and geofoam simply because it made the project so much easier," said York of A.J. York Construction. "Especially using the geofoam for the steps. We wanted lightweight and that's exactly what we ended up with."
"Thank you guys for helping ship our foam so quickly and on such a short notice. If we hadn't gotten that foam when we did, we might not have been able to finish…"  – Brent, Lincoln, NE
 "Thank you for gluing the extra pieces into the Kramer order. He was very impressed. What a class-act, high integrity bunch of people at Benchmark Foam."  – Clint, Redwood Falls, MN
Designing and constructing a portable indoor stage for the Church of St. Gerard in Brooklyn Park, MN brought many compliments from project manager, Jim Vanderheyden:
"Your guys just did a fantastic job at meeting all of our many requirements, especially all of the 4 different thicknesses and the 13 different lengths and widths.  Everything turned out just as designed and planned…You delivered when you said you would.  The foam with plywood glued on top of it, gives a very sturdy surface, and as you said, you could drive a pickup truck on it. Without that bit of truth at the outset, I am not sure we would have tried it…Foam for this particular purpose, was absolutely the perfect choice.  All of us here at St. Gerards want to thank Benchmark Foam for the great service, price, quality, and delivery of your product!! It has truly been a pleasure dealing with you folks there!"
Benchmark Foam's LITE-DECK® Tilt enables wall and roof panels to be cast on site, eliminating freight costs associated with conventional pre-cast while allowing the use of local suppliers. The Tilt panels are cast on beds of expanded polystyrene (EPS). These EPS beds are profile cut to form a structural concrete beam in the panel and to insert an attachment rail for interior finishing.
Speaking of the use of Benchmark's LITE-DECK® Tilt system for construction of the new Dickinson Ready Mix in Dickinson, N.D., Dickinson General Manager Scott Olin said, "Benchmark met all our expectations. We relied on their technical expertise all the way through the project."
(On January 13, 2011, Dickinson Ready Mix of Dickinson, N.D., was presented with a 2009 – 2010 "Excellence in Concrete" Gold Star Award. The award recognizes architects, engineers, contractors and producers for accomplishment in concrete design and construction.)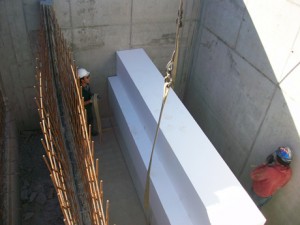 Speaking of the use of Benchmark Foam's Geofoam to fill voids in a new water treatment facility, Brian Bergantine, AE2S Professional Engineer, said "We needed lightweight fill for the voids. Using geofoam meant we didn't need to use heavy concrete fill inside the filters. And that meant we also saved by using less concrete to construct the filter support structure.  Geofoam is very cost effective, making our project work well."
When the Watertown S.D. Police Department decided to go "green" when constructing a new building, Benchmark Foam proposed the use of Enercept panels made with its eps360®, a 100% recycled rigid foam board that retains all the integrity of a non-recycled EPS product.
Pleased with the opportunity to use a recycled product, Mayor Williams fully supported Benchmark's proposal. "The City of Watertown tries to stay as "green" as possible and we accomplish this by using recycled products whenever we can," he said.

Collaborating with Persona Inc. on a sign project, Signs By Benchmark (a division of Benchmark Foam), created pole covers and a top for a colossal 80′ tall x 25′ high x 20′ wide sign designed to magestically advertise a new Residence Inn by Marriott.  The Signs By Benchmark pole covers were created in two sections: EIFS brick lower poles to match an existing brick base and acrylic stucco upper pole covers.
"The on-site masonry base brickwork and the Signs By Benchmark pole covers look awesome!", said Persona Assistant Technical Sales Manager Les Rossman. "You couldn't have matched the pattern or colors much closer than that!"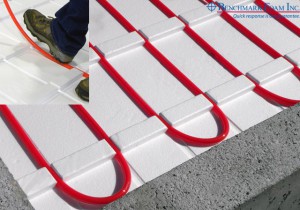 When Lloyd's Heating, Inc. of Watertown S.D. installed 1200 square-feet of Benchmark Thermo-Snap™, Scott Christians of Lloyd's Heating said, "The installation went very well. We saved a lot on costly staple consumption."
Speaking about Benchmark Foam's contribution to the Watertown, S.D. Habitat for Humanity project, Habitat Site Supervisor Francis Kearney stated, "The foundation was assembled and concrete poured in less than two days. I prefer using ICFs because they are easier to work with than steel frames and they don't break your back!"
"Benchmark Foam was very easy to work with. The product was great and their customer service is top notch. Their drivers even shook my hand and thanked me for the business. You don't see that very often." – Bryan, Le Mars, IA
"I've had good luck with Benchmark," said Rod of Wahpeton, North Dakota. "They have good products, service and no late deliveries."