Signs By Benchmark Monument Sign Stands Out While Blending In
Custom monument sign features faux stacked stone to match existing buildings
Thanks to a successful collaboration between Signs By Benchmark (a division of Benchmark Foam, Inc.) and Sign Source of Chanhassen, Minn., the White Pine Assisted Living facility in Fridley, Minn. had a modern new sign. Blending in with the old by sporting faux stacked stone designed to match existing buildings, the single-sided monument adds highly visible grace and elegance.
Measuring 8' wide x 5' 5" high x 20" deep, the monument features a faux stacked stone base and columns topped with faux limestone caps. For long lasting durability, letters and logo are coated directly into the sign face.
"The end customer is very pleased with the sign," said Greg Rendall of Sign Source. "And so are we. The installation was slick, taking very little time."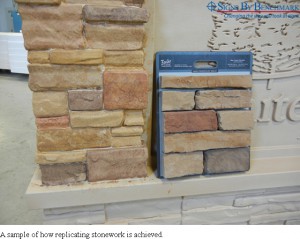 Because the Signs By Benchmark team controls the creative process from molding the EPS Expanded Polystyrene cellular plastic through cutting, sculpting, hard coating and painting, their products always meet high quality standards. Specializing in unique custom signs, the team also offers standard models and creates sign components such as bases, pole covers and tops. Often, these components are used to modernize and dress up existing signage.
Call the Signs By Benchmark team today at 800-658-3444 or 605-886-8084 to discuss your upcoming projects. Submit your own designs, or ask for design assistance. Either way, the finished product will certainly meet your customer's needs.