Reusable Molds Do Justice For Decorative Concrete
Using EPS foam as negative, rosettes add classy finish to courthouse
Benchmark Foam often produces its expanded polystyrene (EPS) foam for use as a one-time use form or negative to create a specific shape or object. It has previously been used in a wide variety of projects including crown molding to bridge railings. Therefore, it was not unusual when precast concrete design company, Gage Brothers, was looking for EPS forms for a courthouse project in Rapid City, S.D.
The design called for 16 decorative concrete rosettes on the exterior of the building. Benchmark proposed using its EPS foam to create a reusable form using its polyurea coating that offers a better finish on the concrete once cured. Still using EPS to shape the form, Benchmark created a reusable mold with its signature polyurea. The finished mold
allowed Gage Brothers to cast individual 18" rosettes using the same form, rather than multiple foam negatives, saving space and waste.
"The texture of the pieces came out great. We will most definitely be looking at this for a viable option in the future to cast some of these types of intricate pieces," said Gage Brothers Project Manager Adam Struck.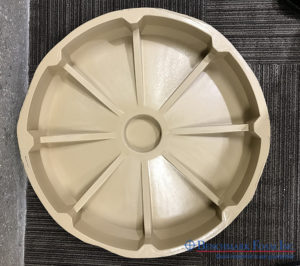 Whether it's for ornate designs or run-of-the-mill projects, using EPS as a negative or form can be a significant time and money saving solution. To learn more about reusable forms or molds, contact our team at 605-886-8084 or 800-658-3444.