Benchmark Foam Introduces New King Corners for ICF Insulated Concrete Forms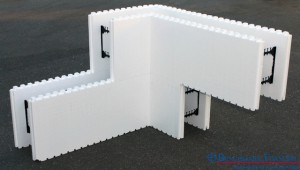 King Corners by Benchmark Foam are the new, one-piece corner option used with Benchmark ICF Insulated Concrete Forms building systems. Offering all the same properties of a Benchmark ICF block, including the tongue-and-groove interlock and embedded ties 6″ on center, King Corners are available in right or left designs to accommodate all layouts. The left and right versatility also gives builders the option to install blocks staggered or on-bond.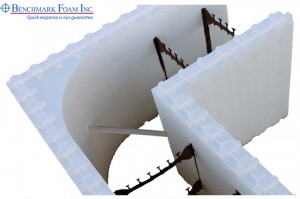 King Corners are 16″ x 2′ x 4′ and ensure strength and durability. The one-piece design includes a heavy duty embedded corner tie made of more plastic than traditional ties to enhance durability of the corner block.
While the traditional molded corners with separate corner ties will still be available, the King Corner option is designed to better accommodate every builder's needs. To have your current job quoted with the new King Corner design, contact us at 800-658-3444 or 605-886-8084.
Click here to read, download or print our Benchmark Foam King Corners brochure.