Signs By Benchmark Faux Stacked Stone Base Amps Up Community Sign
Saving their customer the heavy expense of a traditional stone sign base, Brushmarks Signs of Detroit Lakes, Minn. opted for a durable, faux stacked stone base created by Signs By Benchmark, a division of Benchmark Foam.
Measuring 213″ long x 32″ high x 22″ deep, the base does a very nice job of "anchoring" the sign while adding to the overall beauty of the structure.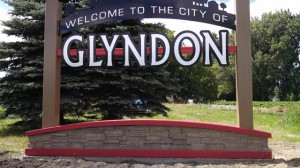 "The sign is amazing," said Angela M. Harvala-Asleson of Brushmarks Signs. "Signs By Benchmark did such a great job on the base. Our end customer called to say they love the sign – as do the community members who are calling in to extend compliments."
Signs By Benchmark is a wholesale sign manufacturer that creates a full line of high quality, durable signage – from interior and exterior signs to sign components such as sign tops, pole covers and bases such as the one featured in this article. If you know of someone who could benefit from new, modern signage, give the Signs By Benchmark team a call at 800-658-3444 or 605-886-8084.