Season's Greetings from Benchmark Foam
As 2011 draws to a close, the team at Benchmark Foam express their gratitude to all customers and business associates with a heartfelt "Season's Greetings" and wishes for a productive, prosperous 2012.
Near the end of 2010, Benchmark Foam President Tom Devine stated, "Our achievements throughout 2010 were driven by a talented, dedicated team. Because of our commitment to quality products and an on-time delivery guarantee that builds customer trust, we foresee continued productivity and success in 2011."
Tom's words proved true throughout the past year as productivity for Benchmark Foam and Signs By Benchmark (a division of Benchmark Foam) continued to swell. Some landmarks were:
Benchmark Foam Insulated Concrete Forms (ICF) were used to create flood prevention walls in Nebraska
eps360®, our 100% recycled product often used for sub-slab and roofing, was successfully trademarked
Insul-Skirt, an insulated skirting for recreational vehicles (RVs) was released to accommodate temporary oil field housing
Thermo-Snap, an in-floor heating insulation panel engineered to accept radiant tubes, was patented
Signs By Benchmark achieved its most profitable year to date
We know that the success of our business depends on providing exemplary customer service. As in years past, our team worked hard throughout 2011 to personify our On-Time Guarantee by accommodating orders and consistently meeting agreed-upon delivery dates. In response, our customers continued to trust our commitment to help make their business successful.
For 25 years, Benchmark Foam has been serving customers across the Midwest with their expanded polystyrene (EPS) needs, whether it's commercial or residential insulation, roofing insulation, 100% recycled eps360, insulated concrete forms (ICF), Thermo-Snap insulating in-floor heat panels, architectural shapes for Exterior Insulation Finishing Systems (EIFS), exterior/interior signage, or custom molded packaging needs.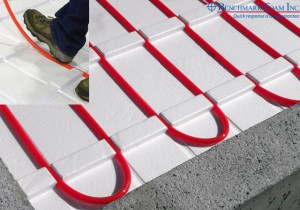 We invite you to continue placing your trust in our commitment to quality and service. Call our skilled team at 800-658-3444 or 605-886-8084 with your project specifications. Discuss the perfect Benchmark Foam product for your new construction or renovation needs. Then rest assured that we will produce high quality products and meet the agreed upon delivery terms every time. It's our guarantee!
We look forward to continuing our mutually positive relationship with you throughout 2012. And in closing, we wish you and your family a very Merry Christmas!

401 Pheasant Ridge Drive, Watertown S.D.
605-886-8084; 800-658-3444
www.BenchmarkFoam.com