Benchmark Foam Thermo-Snap for In-floor Heat Impresses New Geothermal Company
Quick Response from Benchmark Foam Seals the Deal
     It's been said that first impressions last a lifetime and you never have a second chance at one. Luckily for
Benchmark Foam
, it didn't need one. A geothermal company wanted to try the patented
Thermo-Snap™
in-floor heat panels rather than traditional 4′ x 8′ sheets. In order to stay on schedule, they needed a half truckload order of Thermo-Snap™ in two days. Knowing they had one change to get it right, the Benchmark Foam team stood by their quick response guarantee and delivered the order in hopes of a positive first impression.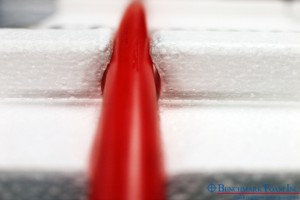 The 4' x 4' Thermo-Snap™ panels reduce labor and material costs with easy installation and minimal staple usage. A tube management system is built into the EPS (expanded polystyrene) insulated panel to ensure even spacing and heating with predetermined tube placement. The PEX tubing in snapped into place and held firmly during concrete pour.
     "They were impressed with the quick delivery," said Jud Van Dusen of Sioux Falls Winair, whom the Thermo-Snap™ panels were sold through. "It was their first time to use it and they plan to use it again on another building."
      After a successful and cost effective installation of Thermo-Snap™, the geothermal company ordered another half truckload of Thermo-Snap™, proof of a great first impression. To learn more about the benefits of Thermo-Snap™ or get a free quote, call us at 800-658-3444 or 605-886-8084 – it may save you time and money on your next job!