Benchmark Foam Adds New Production Facility
Benchmark Foam began dirtwork for a new 20,000-sq-ft addition to its current facility that will offer additional manufacturing space to produce its high quality expanded polystyrene (EPS) foam insulation products. Scheduled to be complete in March 2015, the plans also include space for 10 offices.
The addition will be connected to Benchmark's current 65,000-sq-ft facility that was built in 2009.
Working with local subcontractors, Fiegen Construction will head the project as general contractor.
The new space will house the specialty foams and coated products of Benchmark Foam, which include its monument sign division, Signs By Benchmark.
"We're excited to expand our business to allow for more opportunities for our community," said Chairman Tom Devine.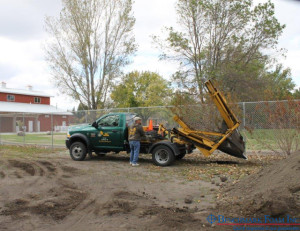 In the last 12 month, Benchmark has hired more than 30 new team members from the surrounding area. Prior to construction, Benchmark had the opportunity to save several of its trees from the construction area in order to donate them to the Bramble Park Zoo for planting near its new children's zoo barn.
Benchmark Foam is a manufacturer of expanded polystyrene (EPS) foam and other specialty plastics. Located in Watertown, SD since 1988, Benchmark Foam strives to create opportunities for its employees, delivery industry-leading products and enhance the profits of its customers. For more information, call 1-800-658-3444 or 605-886-8084.