New School Benefits from Benchmark Foam Recycled eps360 Insulation Product
Benchmark Foam's 100% recycled eps360® helps achieve an average insulation R-Value of 40 in tapered roof system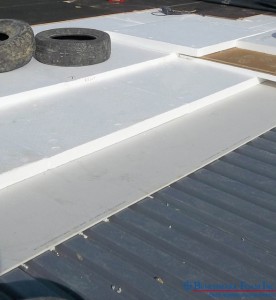 The new middle school in Sioux Falls, S.D. – called NW Middle School until officials determine a permanent name – features Benchmark Foam's 100% recycled product, eps360®, as the roof insulation base and a tapered roof system on top to facilitate proper water drainage. With an average R-Value of 40, the school's roof system is certain to perform well in energy efficiency.
To achieve superior performance in the tapered roof system, a plan was designed that included 19 different size EPS components to position in specific sections of the roof. Arranging delivery schedules to match the desired section of the roof was critical to keep the project on schedule. When the roofing crew moves to a different section of the roof, the on-time delivery from Benchmark Foam has to correspond to that roof section. In order to keep the contractors on schedule and stand by its On-Time Guarantee, the Benchmark Foam team stays in daily contact to ensure the correct product is shipped to keep the crew progressing.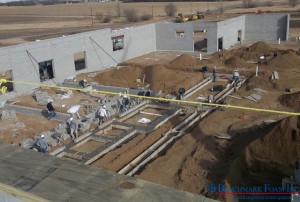 The 115,000-square-foot school broke ground in August 2012 and roughly half of the roof project is finished. The second half of the roof is expected to begin late winter or spring of 2013, with the expectation for the school to open its doors to students in 2014.
Contact the Benchmark Foam team to find out how they can help guarantee on-time deliveries to your next jobsite. For more information on eps360®, visit us online at www.BenchmarkFoam.com or call us at 800-658-3444 or 605-886-8084.