EPS Foam-core Letters Stand Out at Legacy Celebration
4 ft. tall letters prove perfect background for Sioux Falls event
As planning began for the 125th anniversary Legacy Celebration of Catholic Diocese of Sioux Falls (S.D), Brandei Schaefbauer, a foundation board member, made the connection that Signs By Benchmark could be the perfect supplier of architectural letters for the event.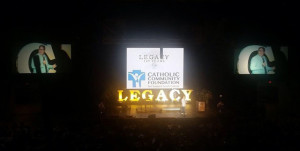 When installed, the 4′ tall LEGACY letters stretched 20′ long, standing stationary in the background on stage. According to Schaefbauer, the letters were everything they could have hoped for.
"[The legacy letters] added so much to all of the homilies because the event was all about leaving a legacy and the letters didn't distract from the true meaning of the mass," said Schaefbauer.
Event coordinators easily set up the lightweight letters with adjacent lighting to accentuate stage presentations. Original plans called for moving the letters off stage during mass, but the decision was made to leave them in place as the perfect background.
The event staff received many comments on how well the letters looked on stage.
"The letters reflected the lighting so well during the different speakers. They were incredible."
"They were simply, amazing, amazing, amazing."
CNC cut from expanded polystyrene (EPS), then hand-finished, the letters were encased in a hardcoat that provides durability – ensuring carefree transportation and long-term storage with plans for future use.
Signs By Benchmark, a division of Benchmark Foam, specializes in products that beautifully interpret your end customer's branding. Give our team a call at 800-658-3444 or 605-886-8084 to discuss your next project.