LITE-DECK®
LITE-DECK® is the affordable alternative to pre-cast, steel or engineered wood decking/flooring applications. The insulated stay-in-place form for reinforced concrete floors, decks or roofs can clear spans 40 feet or more. Custom-built to your specifications, the LITE-DECK® system uses the principles of reinforced concrete joists to provide load-bearing strengths. Please contact us for additional designing and engineering information.

Side view of LITE-DECK® with Top Hat
Installation Process:
1. Place Concrete forms and rebar as required (pictured In-Floor heating system is optional).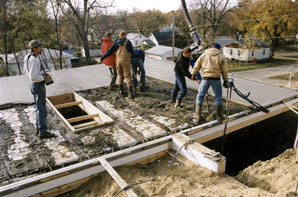 2. Pour Concrete.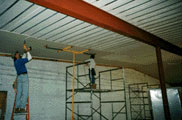 3. Remove bracing (shoring) and finish bottom side with drywall.
Read, download or print our LITE-DECK© brochure.
The LITE-DECK® Tilt system enables wall and roof panels to be cast on site, eliminating freight costs associated with conventional pre-cast while allowing the use of local suppliers. The Tilt panels are cast on beds of expanded polystyrene (EPS). The EPS beds are profile cut to form a structural concrete beam in the panel and to insert an attachment rail for interior finishing.

Click here to read how Benchmark Foam LITE-DECK® Tilt was used in the construction of the Dickinson Ready Mix Plant in Dickinson, North Dakota.
Benchmark Foam, Inc., 401 Pheasant Ridge Drive, Watertown, South Dakota 57201
Phone 605-886-8084   Toll-free 800-658-3444   Fax 605-886-8099