EPS Foam Forms Easily Removed From Cured Concrete
Form release product proves capabilities in bridge job using custom-cut Benchmark Foam EPS
Recently, we discovered an innovative form release product that when used accordingly, allows expanded polystyrene (EPS) foam to be easily removed from concrete once cured.
Prior to pouring concrete, the EPS is coated with the form release agent in areas that will be exposed to concrete. Once the concrete has cured, users can easily remove the EPS.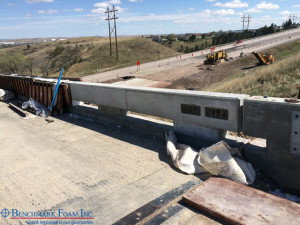 The form release product allows contractors to use EPS as an economical alternative for projects that require a negative or form to create special shapes and objects.
Journey Group of Sioux Falls, S.D. recently used custom cut EPS from Benchmark Foam in conjunction with the form release agent in a western South Dakota project. Using the coated EPS as the negative, they formed the concrete rails on bridge overpasses then easily removed the EPS to reveal a smooth, clean surface on the concrete rails. According to the crew, this new process worked very well and impressed state officials.
Click here to watch a recap of one of the trial runs we performed.
To find out more on this product and how Benchmark Foam can custom-cut EPS shapes to use as a negative or form, call us at 800-658-3444.