Benchmark Foam EPS Expanded Polystyrene Sculpture at Chicago Winterfest
Benchmark Foam EPS used for sculpture on display at Chicago Navy pier Winterfest
For the past four years, Kim McComb and Mike Dillon have been creating an EPS expanded polystyrene sculpture for "Winterfest" at the Navy pier in Chicago. This past February, their sculpture of choice was that of a spunky rabbit, "Charlie Cottontail".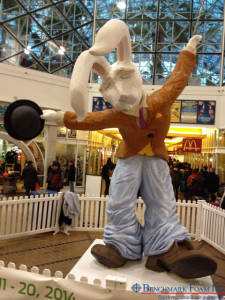 "Winterfest is a huge festival that runs through December and into January", said sculptor Kim McComb. "They usually get about a million people to attend. We are hired to promote the big snowsculpture event in January (this year it was in February). It's a lot of fun and gives us a chance to do a piece of sculpture on a grand scale. It usually takes about a month to do them – we are essentially working through Winterfest. Charlie is a result of my girlfriend and I watching way too many Charlie Chaplin movies. I'm really not sure how tall he is, but his cane reaches between 20 and 25 feet up there."
Three years ago, to obtain high quality EPS suitable for sculpting, Kim contacted General Manager Matt Frey of Signs By Benchmark (a division of Benchmark Foam). Since then, it has been nothing but fun watching our Benchmark EPS transformed into an amazing work of art!
"Your company has been great," said McComb. "They take care of everything, get it there on time, and don't mind answering my goofy questions."
Benchmark EPS has many applications – from building insulations to signs to hand sculpted pieces such as Charlie. For more information about our EPS products, give our team a call at 800-658-3444 or 605-886-8084. Visit our Signs By Benchmark website at www.SignsByBenchmark to learn about our signs, many of which contain hand sculpted components.