Signs By Benchmark EPS Cellular Plastic 3D Logo Wall Mount Sign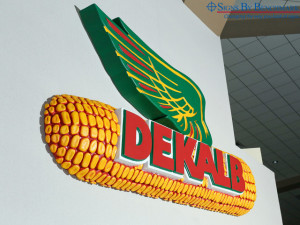 Working with Indigo Signworks of Grand Forks, N.D., the Signs By Benchmark (a divison of Benchmark Foam) team put their experience and skills to work creating a custom 3D interior sign destined for installation in the Ralph Engelstad Arena of Grand Forks, N.D.
Based on the end customer's logo, the body of the sign is a huge, 108″ wide x 54 1/2″ long x 9″ deep replica corncob complete with hand-sculpted debossed kernels. Colorful and eye-catching, the wall mounted sign can't be missed.
"Each kernel on the corncob, the Dekalb lettering and the wing all have dimension," said Nick Cox of Indigo Signworks.
Cox reports the end customer as saying, "We needed some wow factor on this project and you nailed it!"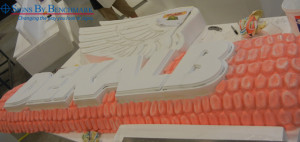 Created from EPS cellular plastic, the entire sign was coated with Signs By Benchmark's signature hard coat for the strength and durability that will protect the end customer's investment.
Give the Signs By Benchmark team a call today at 800-658-3444 or 605-886-8084 to discuss your design ideas and upcoming projects.