Commercial Insulation
Early in the 1950s contractors and carpenters began to realize expanded polystyrene's potential as an efficient foam insulation for commercial, residential and civil engineering projects. It didn't take long for the thermal plastic material to become the standard in the industry.
Insulation is often characterized by its R-value. The higher the R-value, the better the resistance to the flow of heat. Compared to other rigid insulation boards, expanded polystyrene (EPS) provides the most R-value for each dollar spent.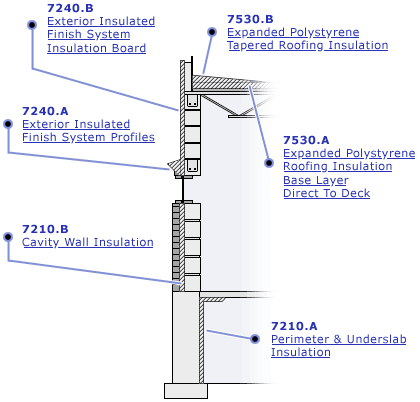 Benchmark Foam manufactures many products that are ideal for commercial applications. To learn more about our products, click on the links below to read, download or print our brochures.
Insulated Concrete Forms (ICF) Brochure
Attic Vents and Joist Plugs Brochure
Architectural Shapes for Exterior Insulation and Finish Systems (EIFS) Brochure
Benchmark Foam EPS for Major Road Construction Project
Benchmark Foam Inc. has Underwriters Laboratories and Factory Mutual approvals for EPS. Please see the UL Building Materials Directory, the UL Roofing Materials & Systems Directory and the Factory Mutual Approval Guide.
Benchmark Foam, Inc., 401 Pheasant Ridge Drive, Watertown, South Dakota 57201  Phone 605-886-8084   Toll-free 800-658-3444   Fax 605-886-8099