Thermo-Snap™ (patented) & In-Floor Heat Insulations
Expanded polystyrene (EPS) provides excellent R-value to eliminate the effects of a heat sink. A heat sink is the heat absorbed into the soil under a heated flooring system. In some applications, a heat sink is desirable, but in most residential applications this may cause problems. After a floor heating system is turned off, the heat escapes from the soil underneath, causing the temperature in the room to continually increase, making the room uncomfortable. EPS reduces this effect and gives more immediate control of the room temperature. When installing a heated floor system, remember to allow sufficient EPS insulation under the slab.
High-strength Benchmark Foam High-Density EPS is ideal for heated flooring system applications. Or choose Thermo-Snap™ (patented), our 4′ X 4′ in-floor insulation panels into which radiant tubes are easily snapped into place. Because tubes remain in place, float or displacement does not occur. This system eliminates the need for continuous staples, reduces labor and saves on concrete costs.
Read, download or print our High-Density EPS brochure.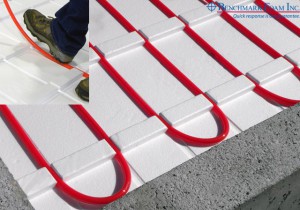 Achieve an R-Value of 10 (R-10) or above with Thermo-Snap™ insulated panels, when required by local code. Click for more technical data on meeting R10 requirements.
Read our news article about the benefits and use of Thermo-Snap ™.
Read, download, or print our Thermo-Snap™ brochure.
View our Thermo-Snap™ Physical Properties table.
Read, download or print our Thermo-Snap™ Shipping Options flyer.
 Watch the below video to see how our Thermo-Snap™ in-floor heating panels can work for you, then call us today at 800-658-3444 or 605-886-8084 for your free quote.
Benchmark Foam, Inc., 401 Pheasant Ridge Drive, Watertown, South Dakota 57201
Phone 605-886-8084   Toll-free 800-658-3444   Fax 605-886-8099