Benchmark Geofoam Fills Voids in New Water Treatment Facility Filters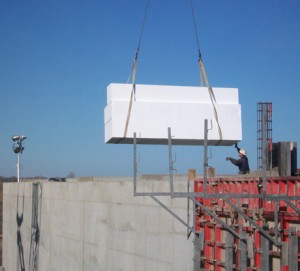 When a cost-effective void fill was needed for construction of a new water treatment facility in Watertown S.D., Benchmark Foam's geofoam was specified. A component of the filtering system, geofoam was installed to fill voids in the filters that perform final cleaning activities before water is stored or pumped to customers.
Facility design required that the final filters be located atop a raised concrete support structure. The filters consist of large concrete boxes, or buffers, that contain layers of sand and gravel. Water spills into the boxes where it is filtered by the sand and gravel to remove any remaining particles. The water is then directed into gathering troughs inside each box. That's where the geofoam comes in, supplying concrete-encased lightweight fill that helps direct water into the troughs.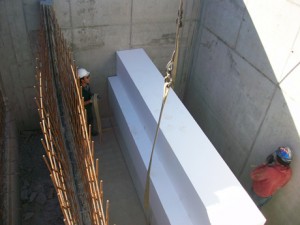 Using geofoam meant significant savings for the city that plans to have the new facility operational by late May or early June, 2011. AE2S, a national engineering firm with an office in Fargo N.D., designed the filtration system.
"We needed lightweight fill for the voids," said Brian Bergantine, AE2S Professional Engineer. "Using geofoam meant we didn't need to use heavy concrete fill inside the filters. And that meant we also saved by using less concrete to construct the filter support structure.  Geofoam is very cost effective, making our project work well."
Calling into play its everyday on-time delivery guarantee and commitment to customer service, Benchmark Foam delivered approximately 2,900 cubic feet of custom-cut, 10′ wide x 14′ 6″ long x 2′ thick, high density (EPS29) geofoam blocks. Hoisted by crane into the elevated filters, the lightweight blocks were easily hand-manipulated into place.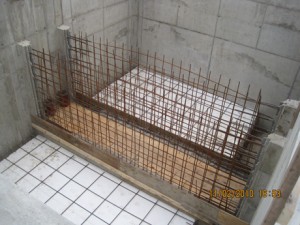 "Our engineers at AE2S recommended using geofoam to reduce cost and make it easier to construct the filters," said Jeff DeVille, Watertown Municipal Utilities Water Superintendent.
Cost savings and ease of construction are just two positive characteristics of geofoam in this application. Manufactured from expanded polystyrene (EPS), geofoam is resistant to rot so it will not deteriorate, allowing it to fulfill its role indefinitely. The perfect medium, it provides an efficient, long-term, cost effective investment for the City of Watertown.
As with this project, Benchmark Foam can provide the right EPS product for your next project. Give the team a call at 800-658-3444 or 605-886-8084. They'll provide you with valuable input and a free quote.