12′ Replica Boot Appears on Magazine Cover
A 12′ foam-core replica work boot is featured on the cover of the March 2021 issue of Sign Builder Illustrated magazine. The boot was created by Signs By Benchmark, a division of Benchmark Foam, as part of a pole sign project for a boot and apparel shop in Michigan.
Working with a design from Baker Sign Company of Iron Mountain, Michigan, the boot was hand sculpted from eight sections of expanded polystyrene (EPS) foam. Once in its final shape, the boot was encapsulated in a signature polyurea hardcoat to give it durability to withstand the elements of Michigan's Upper Peninsula. Painting the boot was a focus throughout the project in order to achieve the look of a worn or aged work boot.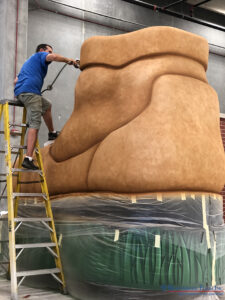 "All the foam signs they have made for us in the past were not only how we envisioned them, but also east to install," said Ben Baker, owner of Baker Sign Company.
To learn more about Signs By Benchmark products, contact our team at 800-658-3444 or signinfo@benchmarkfoam.com.
To read the full article in Sign Builder Illustrated, click here.