Knockdown Coolers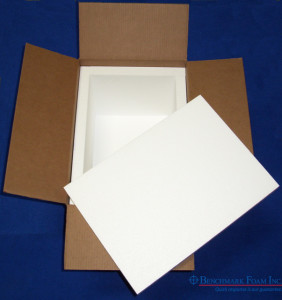 Benchmark Foam's cost effective knockdown coolers are the perfect choice when it comes to filling custom insulated box needs. Manufactured from expanded polystyrene (EPS), our knockdown coolers are a six-panel box liner fit for any packaging need, such as medical materials or perishables. Knockdown coolers may be ordered in any size and panel thickness, even a variety of thicknesses in panels to achieve desired results.
Save money with no tooling fee and less freight cost with the ability to ship flat. The customizing capabilities offered by knockdown coolers make it an easy choice for any shipping need.
You can choose to order the corrugated box separately or have it supplied and shipped with any knockdown cooler order.
Whatever you're shipping, protect your goods with Benchmark Foam's custom knockdown coolers. Request your free quote today! 
401 Pheasant Ridge Drive, Watertown, South Dakota 57201
Phone 605-886-8084   Toll-free 800-658-3444   Fax 605-886-8099