Adding In-floor Heat? Benchmark Foam can Help
Benchmark offers several options ideal for in-floor heat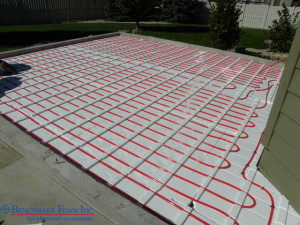 If you're thinking of adding on or renovating your current home and want to include an in-floor heat system, you'll need a sub-slab insulation board. Here's why you should use Benchmark Foam:
Benchmark Foam has been cutting and shaping expanded polystyrene (EPS) foam insulation in innovative ways since its birth into the industry in 1988. Chances are that we have a product for you – if not, even better, we pride ourselves on the ability to create a custom-tailored product well suited to your project.
In the in-floor heat industry, we have a variety of products that work at solving different customer needs. For new construction, the possibilities are endless, but our first recommendation is our patented Thermo-Snap™ because of the cost savings offered during installation. For adding on, we have several options, including our High Density EPS foam insulation sheets that prove ideal for this application because of their strong bond with concrete. For renovation projects, depending on the conditions, we may have an existing product that will fit your needs or we may refer you to a different supplier. At the end of the day, our priority is to supply you with high quality, energy efficient and cost effective products.
So for your next in-floor heat project, give us a call at 800-658-3444 to discuss your plan details and find how we can help you build a higher quality, more energy efficient design while staying within budget.