High-Density EPS
Benchmark Foam's High-Density EPS expanded polystyrene is ideal for many applications requiring high-strength insulation board. This quality product is less expensive than alternative forms of rigid insulation, giving you the best value in the industry. It is especially ideal as a thermal barrier for in-floor heating applications and beneath concrete slabs, as well as perimeter insulation and pre-cast concrete walls.
When you choose Benchmark Foam, you receive superior and versatile products from a Midwest manufacturer with the only On-Time Guarantee in the industry, combining the best in quality, service and value for you and your customers.
Under-slab Thermal Barrier
Installing Benchmark Foam's High-Density EPS as a thermal barrier before pouring a concrete slab will reduce heat loss and prevent possible heaving. The additional insulation also makes the home or work area more comfortable.
In-floor Heating
Use Benchmark Foam's High-Density EPS as a thermal barrier beneath the concrete slab when installing a radiant floor heating system. It will prevent heat loss to the ground and promote even heating where you want it during the heating season. This is especially important in areas with a high water table because water will quickly conduct heat away from a home. The insulation will also block heat from being stored in the ground and then leaching back into the home when you want to keep it cool.
Perimeter Insulation
To prevent heat loss, install Benchmark Foam's High-Density EPS around the perimeter of a poured concrete or block wall foundation. For shallow foundation designs, Benchmark Foam's High-Density EPS around the perimeter of a poured concrete slab will prevent frost penetration as well as both normal and tangential frost heaves.
Pre-cast Walls
Because EPS retains a stronger bond with concrete than extruded foams, Benchmark Foam's High-Density EPS is ideal for pre-cast walls. Benchmark Foam is able to customize panels to your needs –whether your design calls for extra-large panels or special shapes.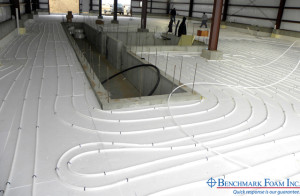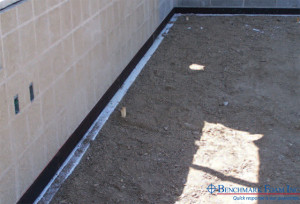 Advantages of Benchmark Foam's High-Density EPS in Your Application
Design Flexibility
When standard shapes and sizes will not work, Benchmark Foam will work directly with contractors or designers to create a product that will conform to customer needs. We are customizing experts.
Cost Efficient
Benchmark Foam's high-quality EPS is the best value in the industry, giving you the most R-value per dollar spent. For the same cost as you would spend with our competitors, you can add thickness to your EPS insulation and achieve a greater level of thermal protection with Benchmark Foam's High-Density EPS.
Excellent Thermal Performance
The high thermal performance of Benchmark Foam's High-Density EPS will keep heat where you want it and reduce energy costs.
Effective Concrete Bond
When used in concrete applications – whether under a poured slab or with pre-cast walls – EPS bonds effectively with the concrete to create a durable, fully integrated slab or wall.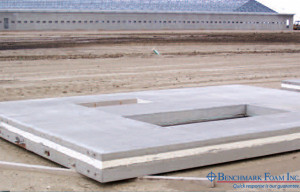 Environmentally Conscious
Benchmark Foam's High-Density EPS can help you achieve Green Building standards. The thermal protection attained with rigid under-foundation and perimeter insulation increases energy efficiency and provides the thermal envelope often required in Green Building.
Because caring for the environment is important to us, Benchmark Foam products do not contain formaldehyde, nor do we use CFCs, HFCs or HCFCs as blowing agents. You can be confident in the environmental safety of our product. Benchmark Foam also recycles by accepting used, clean, dry EPS to remanufacture into 100 percent recycled products.
On-Time Guarantee
Benchmark Foam knows that your business depends on our product arriving on time. Our service response is so dependable we back it with Benchmark Foam's On-Time Guarantee. Your product will be shipped and arrive by the agreed-to arrival date or we will discount your invoice 10 percent. We work to accommodate customer needs, giving you confidence when you place an order, even if it needs to be rushed. And we do not have truckload quotas, so no matter how large or small, your order will be shipped on time.
Read, download or print our High-Density EPS brochure.
401 Pheasant Ridge Drive, Watertown, South Dakota 57201
Phone 605-886-8084   Toll-free 800-658-3444   Fax 605-886-8099