Dock Floats
Benchmark Foam Dock Floats are constructed from high-quality expanded polystyrene (EPS) foam into which wood firring strips are inserted as attachment points for decking. To ensure durability, a waterproof hardcoat is applied to the floats, encapsulating the wood and foam into a solid, watertight, floating unit. (Click on photos to enlarge.)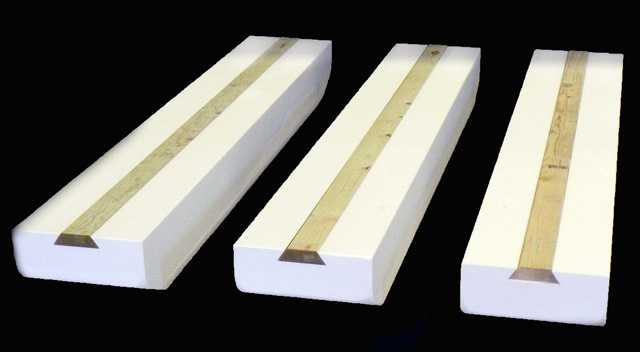 Production Phase 1:
Firring strips are inserted into each foam base
Standard base size is 12″ x 16″ x 96″
Custom base sizes are available
Hardcoat is applied to foam base to encapsulate wood and foam into a solid, durable floating unit
Floats 55 pounds per cubic foot
Build & design a dock to your specifications
One standard size base floats about 580 pounds
12″ x 16″ x 96″ standard size; custom sizes available
For more information and to discuss your specific dock plans, call Dan today at 800-658-3444 or 605-886-8084. In keeping with Benchmark Foam's On-Time Guarantee, your agreed-upon needs will be met from planning through delivery.
Download or print our Dock Float brochure.
Keep your summer fun afloat with affordable, durable dock floats from Benchmark Foam!
401 Pheasant Ridge Drive, Watertown S.D. 57201 Phone:  605-886-8084
Toll Free:  800-658-3444        Fax:  605-886-8099