Building Green With Benchmark Foam Recycled Expanded Polystyrene (EPS) Satisfies The Law
100% Recycled eps360® Works Full Circle in Police Department Building Construction
Having outgrown a building constructed in 1975, the City of Watertown SD made plans to construct modern police department quarters. Keeping green building principles in mind while working in accordance with Watertown Mayor Gary Williams' "Buy Watertown" initiative, architects specified Structural Insulated Panels (SIPs) by local manufacturer Enercept, Inc. These super energy efficient building panels would be used for construction of some exterior walls.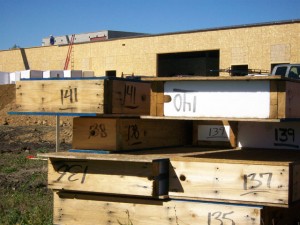 Benchmark Foam, Inc. has enjoyed a long-standing relationship with Enercept. Since 1988, Benchmark has been providing Enercept with expanded polystyrene (EPS) rigid foam insulation. To create the SIPs, Enercept laminates the EPS between two layers of oriented strand board (OSB).
Yet building design called for not just one Benchmark product. Architects specified Benchmark's Roofing Insulation for the approximately 35,000-square-foot building. That's where Benchmark's eps360® came into play. A 100% recycled rigid foam board that retains all the integrity of a non-recycled EPS product, eps360® is created from clean, dry, post consumer EPS. This product is continuously manufactured, but for the Watertown Police Department project, the creative team at Benchmark proposed a cost-saving, green building twist that would use EPS left over when Enercept manufactured SIPS for the project. Remanufactured into eps360®, the waste would be used for the required roofing insulation.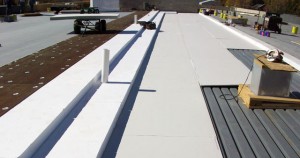 Pleased with the opportunity to use a recycled product, Mayor Williams fully supported Benchmark's proposal. "The City of Watertown tries to stay as "green" as possible and we accomplish this by using recycled products whenever we can," said Gary Williams, Mayor. And so the full-circle cycle began. Benchmark EPS was shipped in timely increments to coincide with Enercept SIPs construction. As the SIPS were made, Benchmark trucks returned to Enercept to pick up waste EPS.
Once back at Benchmark, the waste was ground along with other post consumer EPS, remanufactured into eps360®, then shipped to the construction site as required. Pro-Tec Roofing and Sheet Metal installed the recycled insulation as part of the sloped roofing system. "Installing Benchmark Foam roofing insulation with Carlisle rubber membrane makes an efficient, maintenance-free system," said Cliff Herzog of Pro-Tec.
Caring for the environment and providing outstanding customer service is always important to the Benchmark Foam team. In this case, they saw the opportunity to serve both and never hesitated. Once again, the staff at Benchmark proved that quick response is indeed their guarantee.
Call the Benchmark team today at 800-658-3444 or 605-886-8084. Let their professionalism and green building awareness work for you.