Foam-core toothbrush pylon signs featured on magazine cover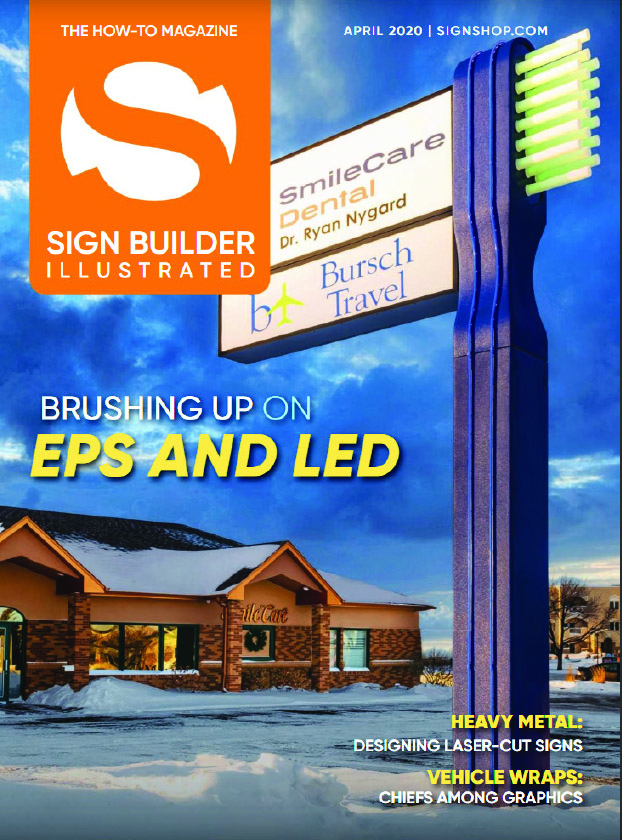 Foam-core toothbrush pylon signs made by Signs By Benchmark, a division of Benchmark Foam, were featured on the cover of the April 2020 issue of Sign Builder Illustrated magazine. The 25′ and 27′ toothbrush shapes were produced using expanded polystyrene (EPS) foam and Signs By Benchmark signature polyurea hardcoat, then shipped to another sign company to complete the pole covers with sign cabinets and LED lighting. The finished products stand tall at their respective locations in Fargo, N.D. and West Fargo, N.D.
For more details in the full article of Sign Builder, continue reading below.
Originally featured in Sign Builder Illustrated magazine, April 2020
by Jeff Wooten
It can feel like a rare opportunity when one shop finds itself working on brand-new signage at the same time for two different dental clients; it can be an even rarer experience if these two dental clients also happen to be twins. This was the scenario Scenic Sign Corp., recently came across, as they worked on making their clients' new on-premise signage appointment viewing.
Scenic Sign Corp., is a full-service sign company based out of St. Cloud, Minnesota (with another office in West Fargo, North Dakota) and serving the Minnesota-North Dakota geography. The company has forty employees designing, engineering, fabricating, installing, and servicing signs like channel letters, sign cabinets, electronic message centers, monuments, and, appropriately here, pylons.
Ryan Nygard was already running an established dental practice on his own (SmileCare Dental) in Fargo, North Dakota. His practice had been using an on-premise multi-tenant, multi-panel sign for quite a number of years. However, when one of his tenants ended up recently moving out, Ryan decided it was time to invest in an on-premise sign that would be more exciting and more eye-catching. He wanted something that would not only better identify his dental practice but, in turn, help generate inquiries from potential new patients as they drove by it.
Meanwhile Ryan's twin brother, Nathan Nygard, was outgrowing his current office and looking to rebrand his dental practice. With the help of his brother Matt and father Larry, they located a piece of real estate along a busy freeway in West Fargo, as well as coordinated the design and construction of Nathan's state of the art facility.,The twins figured it would be a perfect opportunity to do some family-style co-branding with their property signage, so Ryan (and later Nathan) reached out to Scenic Sign for some design ideas.
"This was the first time we'd worked with the brothers," says Gary Thornton, sales manager at Scenic Sign. "I'm in a service club with their other brother, Matt, who's not a dentist. He suggested to them they contact me."
The brothers were interested in a pylon-type pole sign, so Thornton and his team of designers worked diligently with them on ideas. (Note: The project became a bit of a family affair, as the brothers' parents and Matt were also involved during the brainstorming stage.) The initial idea morphed into a vinyl-covered, acrylic-face, LED-illuminated, aluminum-frame sign cabinet flag-mounted off a steel pole. The question then turned to how to make this something further that shouted "dentist!" Looking at the sign style, the height of the poles, and the surrounding environments, Thornton suggested a pole cover shaped like a giant toothbrush. Everyone approved! "One really can't miss something like this when driving down the street," he says.
Although Thornton pondered a metal framework cabinet to construct the toothbrush structure, he and the brothers liked the idea of the toothbrush handle looking more representative than realistic and opted for more rounded corners. It was apparent foam would be the optimum choice for shaping the toothbrush appearance.
So Scenic Sign turned to foam-core fabricator and provider Signs By Benchmark of Watertown, South Dakota. They've enjoyed a good working relationship with them for ten years now. "The sky is the limit for the shapes they can make that foam into," says Thornton.
Signs By Benchmark had actually worked on similar toothbrush-type pole covers in the past and provided Scenic Sign with some photographic examples early on to show what was possible. However this project ended up involving much larger sculptures than the company had done before.
For this project, Signs By Benchmark used one-pound-density expanded polystyrene (EPS) foam to sculpt the toothbrush shapes. "While [EPS] offers great flexibility to work with higher densities, honestly a higher density here would've only made the accents weigh more without providing really much benefit," says Jamie Kakacek, lead designer at Signs By Benchmark.
The body of the toothbrush was cut with a CNC hot wire and assembled in house. "Certain elements, primarily in the head, were routed to embed a framework for mounting the bristles," says Kakacek, noting they also installed pick points in each section so they for easier assemblage on site.
Signs By Benchmark then painted the giant toothbrush pole covers at their facility, following the color specs (one green and the other blue) provided to them by Scenic Sign. These matched the logos and colors to be placed on the flag-mounted ID sign cabinets. The company carved the toothbrush pole covers as three separate pieces for later assemblage. The main toothbrush piece covering the steel pole is EPS, and the bristles are acrylic tubes.
Throughout the process, the Nygards talked about somehow incorporating more lights into the final sign design. Scenic Sign came up with the idea of mounting SloanLED LED border tubing around them to highlight the toothbrushes at night and make them stand out more. "The brothers added they'd like to have the acrylic bristles also be illuminated but independently from the border lighting," says Thornton. They tested and engineered different ways the acrylic tubes could light up, deciding that color-changing LED lights placed in the bristle section would work best. "So now the toothbrush signs have white LEDs inside the sign cabinet, controlled color-changing LEDs in the bristles, and border tubing accenting the perimeter," says Thornton.
Although Nate was second one to the party with this sign request, due to the timeframe of his project being a brand-new building being built-from-scratch, Scenic Sign ended up putting his up first, because even Ryan had a pylon sign in place that was going to be need to be removed and destroyed before putting up a new one.
At both locations, Scenic Sign dug an appropriately sized auger hole and planted the structural column pipe into the ground with their Elliott crane truck. (Note: One column pipe extends up twenty-seven feet in one case and twenty-five feet for the other, plus going down into the ground approximately ten feet.) They then set it with concrete, allowed it to cure and built off of that, providing them with the finished structure.
Scenic Sign used their Elliott crane to first slide two pieces of the toothbrush pole cover over the round column pipe and lock them together with metal attachment areas provided by Signs By Benchmark. "We bolted the flag-mounted cabinet off the side opposite of the bristles and then put that top cover piece over the pole," says Thornton.
Since the brothers operate out of two different dental offices, their signs aren't exactly identical (even counting the two different colors). In fact, Nate's sign ended up being two feet taller than Ryan's because the sign code was slightly different in West Fargo.
Thornton says that this was a very gratifying project to be involved with. "It was a long process, especially when you're doing something that's as unique as this, to not only come up with the visual representation but to get everybody on board to a concept that's relatively new," he says.
Both dentists are happy about how their toothbrush pole covers are communicating with the passing traffic. In fact, to recall an old sugar-less chewing gum commercial from back in the day, five-out-of-five dentists would probably approve of these sign solutions.
"Nate's sign is located adjacent to a freeway in an area that doesn't have a lot of buildings around it, so it really stands out because there are no other visuals to take your eye away from it," says Thornton. "In fact, he immediately had several new patient requests because of it."