Benchmark Foam ICF Insulated Concrete Forms & Geofoam Create Lightweight Curved Exterior Stairs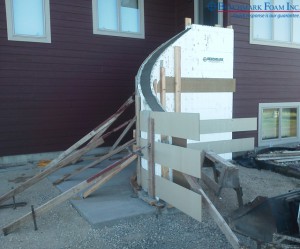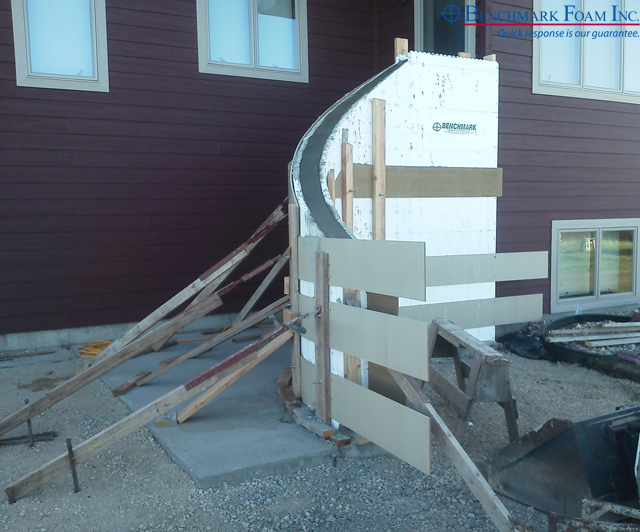 The versatility of Benchmark Foam ICF Insulated Concrete Forms was recently proven when contractor A.J. York designed, then constructed exterior curved concrete stairs for his customer. Wishing to eliminate the usual weight and pressure against the building structure, York went one step further – his design specified Benchmark Foam's geofoam encased in concrete for the stair steps.
"We used Benchmark Foam's ICF and geofoam simply because it made the project so much easier," said York of A.J. York Construction, Watertown, South Dakota. "Especially using the geofoam for the steps. We wanted lightweight and that's exactly what we ended up with."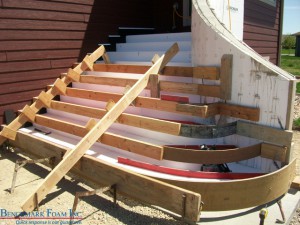 Working from York's design, the Benchmark Foam team created the custom ICF that would determine the 9' 6" high staircase curve. York then installed the ICF – an easy task given Benchmark Foam's interlocking ICF block system. Once appropriate exterior bracing was in place, concrete was poured directly into the ICF. Insulated by the foam forms, the concrete hardened slower than exposed concrete would, achieving a harder, more durable quality concrete.
Once the curved wall was in place, it was time to create steps that would measure 7' wide at the top step, enlarging to 13' 6" wide at the bottom. According to York, this was the easiest part of the project. For ease of assembly, Benchmark Foam's designers had created the components as a kit that quickly assembled, layer upon layer.
"The geofoam was cut to match the stair risers and treads," said Angela Allen, Benchmark Foam designer. "Basically, it was like a large Lego© type building block system."
Because the components were precision designed and cut, very little adjustment or trimming was required by York. (However, due to geofoam's physical properties, trimming may be easily accomplished on-site with a knife or drywall saw.) York simply moved to the next step – pouring concrete to encase the geofoam assembly.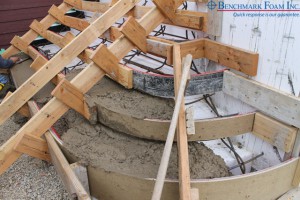 "The geofoam essentially created a void fill," said Corey Mennenga, Benchmark Foam Sales Representative. "Concrete and geofoam achieve a very good bond, making the two products highly compatible."
Benchmark Foam products such as the ICF and geofoam York used to complete this project are manufactured from high quality expanded polystyrene (EPS) that is molded in the company's plant in Watertown, South Dakota. Because the entire creative process is managed in-house from molding through delivery, Benchmark Foam products have long been trusted for consistently high quality.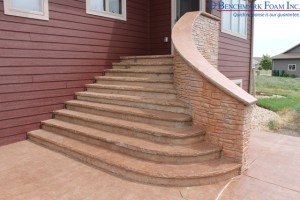 Quality is always a given at Benchmark Foam. Another constant customers may count on is the company's On-Time Guarantee. It states that products will be delivered by the agreed upon date or the invoice will be cut by 10%. Because the entire Benchmark Foam team is customer oriented with a constant eye on quality, that's an easy promise for them to make.
Call the Benchmark Foam team today at 605-886-8084 or 800-658-3444 to discuss your upcoming project. Count on their delivery agreement, then walk away from an easily completed project just like A.J. York did.
"The project went so well," said York. "And the best thing was how pleased my customer was!"