Cost Saving Towering EIFS Stone Monument By Signs By Benchmark Thrills End Customer
When Signs West of Austin, Texas designed for, then landed a project calling for a 20' high illuminated sign to replace outdated existing signage, they quickly realized that a traditional masonry structure was cost prohibitive for the end customer. Looking for a more affordable medium that would still fulfill the design with style and durability, the Signs West team called Signs By Benchmark, a division of Benchmark Foam.
Completely comfortable creating expanded polystyrene (EPS) foam signs of monolithic proportions, the Signs By Benchmark team went right to work, turning out the soaring 20' 1" high x 86" wide x 36" deep pillar section that is enhanced by the base, lettering and logo elements manufactured by Signs West. It was the perfect collaboration, blending components that resulted in an architecturally stunning sign that will stand up to the elements and ensure the customer's investment year after year.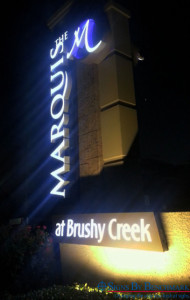 "At first, our customer was skeptical about using foam," said Dub Paden of Signs West. "We've installed about 100 signs for them, but never foam. But they were willing to take our advice and are overjoyed with the sign, saying that it's one of their top three favorites – and it cost less than half of what a masonry sign would have!"
Striking during the day, the sign's illuminated lettering cabinets and logo continue to advertise throughout the night – always visible to passing traffic.
Enjoy a successful collaboration with Signs By Benchmark as Signs West did with this project. Blend your components with theirs or let them create turnkey signs for you. Call the team today at 800-658-3444 or 605-886-8084 to discuss your upcoming projects.