2007 & 2008 News
Business Operations Continue Uninterrupted after Fire
12/8/2008
During the early morning hours of Saturday, December 6, 2008, our Watertown South Dakota
plant was destroyed by fire. Within hours, our team members set up a new office and made
arrangements for uninterrupted production. By Monday, it was business as usual for Benchmark Foam. This quick response is a prime example of how Benchmark Foam does business. As always, our customer needs will be met by a team that puts the customer first.
We can be reached at the same telephone number that you have always used: 605-886-8084 or 1-800-658-3444. Our fax number remains unchanged at 605-886-8099. Our mailing address is still 3200 9th Ave SE, Watertown SD 57201. Small packages should be delivered to 1000 29th St SE, Watertown SD 57201; large packages should be sent to 3100 9th Ave SE, Watertown, SD 57201.
We appreciate the opportunity to continue providing service to your company. As ever, Benchmark Foam will provide dependable on-time delivery. Our service is so dependable, we back it with Benchmark Foam's On-Time Guarantee. Your product will be shipped and arrive by the agreed-to arrival date or we will discount your invoice 10 percent.
Benchmark Foam Customer Service Team
11/24/2008
From left to right:
Corey Mennenga, Sales Representative
Kay Larson, Customer Service Coordinator
Kathy Desormeau, Marketing & Office
Coordination
Brenda Hansen, Customer Service Supervisor & Dispatch
Scheduling
Jamie Kakacek, Signs By Benchmark Design & Drafting
Mike Dylla, Sales Representative;
Matt Frey, Signs By Benchmark Project Design & Sales
Alan Hendricks, Sales Representative
Angela Allen, Drafting,Design & Sales Support
Dan Walker, Sales Representative
Geofoam Solution for Failed Road Embankments
11/24/2008
In late 2007, engineers working on the West Fargo, North Dakota 9th Street/I-94 bridge embankments realized that large amounts of earth creating the embankments was causing underlying soils to collapse. As a solution, they identified the need for alternate, lightweight fill that would take weight off underlying soils. Geofoam blocks manufactured by Benchmark Foam turned out to be the perfect choice.
In agreement with Riley Brothers Construction from Morris, Minnesota, Benchmark Foam began delivering Geofoam blocks on July 18, 2008. The plan was to pre-stage large quantities of Geofoam at the site because installation by American Enterprises Inc. of West Fargo was scheduled to take only five to eight days on each embankment.
To satisfy the requirements of one of the largest Geofoam projects to date in the United States, Benchmark Foam committed to deliver 486 blocks, or 27 loads per week. This goal was challenged by frequent rain preventing truck access to the site. On days that delivery could be achieved, Benchmark Foam met commitments by securing additional transportation and increasing daily load deliveries, proving yet again that at Benchmark Foam, customer needs are met by any means possible – every project, every time.
Flute Fill for Existing Steel Roofs
11/22/2008
When an original steel roof requires replacement, using flute fills can extend a structure's lifespan. Expanded polystyrene (EPS) flute fill panels can be beveled to conform to the thickness and profile of existing corrugated steel cavities.
Traditional roof assemblies include flute fill and single-ply membrane. Increased R-value can be achieved by installing additional flat layers of EPS over the flute fill panels. Call Al or Angela at 605-886-8084 or 800-658-3444 for details on how to upgrade your roof system and enhance energy efficiency.
Sub-slab for In-floor Heating
9/23/2008
Insulate before you pour with our expanded polystyrene (EPS) insulation. Two options suitable for installation on the underside of concrete floors are:
Shape molded, recycled EPS is an eco-friendly option available in a variety of thicknesses, 4′ X 4′ only, with R-4.0 per inch of thickness at a 40 degree F test.
High density, high performance, Type IX EPS is a nominal two pounds per cubic foot density. The nominal 2# is available in a wide variety of thicknesses with 25 lbs per sq. ft. compressive   strength and R-value of 4.60 per inch at a 40 degree F test.
Signs By Benchmark Exceeds Customer Expectation
9/15/2008
Cook Signs of North Dakota recently installed a new exterior sign created by Signs By Benchmark. Manufactured to realize ideas conceived by Cook Signs on behalf of the Mahnomen Health Center in Fargo, ND, the sign is 150" wide, 102" tall and 34" deep. One need was to incorporate brick that would match color and texture of the existing building. Utilizing brick samples, Signs By Benchmark created a faux brick that achieved harmony between both structures. Encasing an aluminum subframe designed to support top-mounted gooseneck lighting, the sign also contains conduit from base to crown, allowing for electrical wiring. Because the sign was constructed in one piece, installation was simple. 
"I was extremely pleased with the quality of the sign for Mahnomen Health Center. It exceeded my expectations," said Brett Waldera, Director of Sales for Cook Signs. "Once the poles were set for the sign, the actual installation took less than an hour and went very smoothly."
The composite signs are lightweight, but have exceptional durability. They are coated to withstand extreme conditions, from -30 degrees F to more than 100 degrees F.
Signs By Benchmark works with a network of regional sign installers to create signs, including structures ready to receive a UL-approved illuminated cabinet or electronic message center (EMC). To turn your exterior or interior signage concepts into reality, contact Division Manager Matt Frey at (800)658-3444, 605-886-8084 or
mattf@benchmarkfoam.com
.
Roofing Insulation
6/13/2008
Benchmark Foam manufactures commercial roofing with a tapered design that provides structural and economic advantages. The design allows for effective drainage, while still conforming to structural requirements. Benchmark Foam's high-quality expanded polystyrene (EPS) is both easy to handle and offers superb performance. With the custom design and easy-to-follow installation marks, your crew can save time and money.
Benchmark Foam can manufacture your roofing needs to a specified thickness to avoid fill costs. We can also produce sheets to specific densities and sizes to reduce labor costs and speed installation.
Benchmark Foam's EPS provides design flexibility, is moisture-resistant and is compatible with all major roofing systems and warranties.
Industry's Only On-Time Guarantee in Action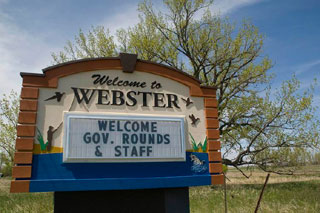 6/9/2008
Signs by Benchmark, a division of Benchmark Foam, delivered above expectations for the town of Webster, S.D. when it was needed. When Webster Area Chamber of Commerce President Jeff Snell discovered Gov. Mike Rounds would be visiting in one week, he needed the sign earlier than promised.
The staff at Signs By Benchmark was faced with only three days to complete the sign and have it ready for installation. A project that had an On-Time Guarantee for 15 days was moved up to less than half the time. Putting in extra time and money, they successfully had the sign completed by the new delivery date. They not only delivered the product a week early, but the quality of the sign exceeded Snell's expectations.
"His (Round's) staff actually had several compliments on the sign." Snell said.
According to Snell, the quality and durability of the sign is unbelieveable. He claimed they received more than what they had expected and were very satisfied with the finished product. The 9-by-14-foot composite sign was built with steel and aluminum framework to provide strength for mounting purposes. The sign was then covered in an acrylic stucco and hand-painted with layered graphics and copy. The city of Webster also chose to have a changeable copy track that was provided by Stein Sign Display of Watertown, S.D.
Matt Frey, Signs By Benchmark division manager said he has seen great feedback from customers on the durability and overall look of the signs. The composite signs are designed to withstand extreme weather conditions and meet customers' highest standards. They are covered in a poyurea hardcoat which is specifically formulated to cover EPS and withstand extreme conditions. The design possibilities have no limits, a feature unmatched by metal, for just a fraction of the cost.
The welcome sign for Webster is only one example of the responsiveness that Benchmark Foam guarantees. With the only On-Time Guarantee in the industry, Benchmark Foam customers can be confident that it will be delivered on time, every time.
Introducing Signs By Benchmark
7/20/2007
In early May 2007, Benchmark Foam, Inc. launched a new division, based in our specialty foam department — Signs By Benchmark.
At Signs By Benchmark, we utilize our internal capabilities of manufacturing expanded polystyrene (EPS) to create composite signs that are strong yet lightweight, easily cut and shaped into designs that are almost impossible to create from metal. We spray the sign with a structural polyurea hard coat, giving it uncompromised strength and durability. This composite manufacturing system allows us to create an extremely durable, architecturally pleasing sign that will not rust or rot.
Benchmark has been molding expanded polystyrene (EPS) blocks and custom molded parts for more than 19 years. We control the entire manufacturing process from beginning to end, expanding and molding the EPS used in our signs. We closely monitor the quality of EPS that goes into our signs, without relying on outside suppliers. Starting with the best material possible ensures the best finished products for our customers.
Most of the signs we manufacture are custom-designed. We do, however, offer six standard signs that represent the most popular styles offered in the marketplace today.
We provide our customers with custom quotes within 24 hours of having all required information. Our standard models can often be quoted over the phone with written confirmation within the same day!
When a standard sign is ordered, we can expedite the manufacturing process and delivery of the sign to our customer. Our average lead date is ten working days; for custom signs, it's fifteen working days.
The term "monument sign" is often used to describe composite signs. While they are certainly used in this manner, customers are only limited by their imagination concerning custom exterior sign options! Along with monument signs, customers can add individual wall-mounted letters, single-side wall-mounted signs and signs with unique shapes and colors.
At Benchmark, we can install illuminated cabinets or electronic message centers (EMCs) into our composite signs. Customers can either ship a ready-to-install cabinet directly to our facility for insertion into their composite sign, or we can supply the cabinet, saving the customer the cost of freight to Benchmark!
If a customer already has a steel sign, Benchmark can provide custom composite accents to modify the current signage, saving the customer hundreds of dollars versus traditional
metal fabrication methods. Sign tops, columns, pediments or pole covers – no matter how big or small – can change any sign from ordinary to extraordinary. With architectural products and other decorative elements from Benchmark, customers are no longer limited by steel frame boundaries.
Benchmark signs can easily be installed. Because they are not pole-supported, the signs can slide over pre-set poles, or the poles can be installed at the same time the sign is set.
And because our signs are so lightweight – weighing approximately two pounds per cubic foot – the use of a crane is often unnecessary.  The durability of Benchmark signs is incomparable. Signs By Benchmark is located in our Watertown, South Dakota, facility, where our temperature cycle throughout the year can range from -30° F to more than 100° F! The polyurea hard coat we use is formulated to hold up under these extreme conditions and is specifically formulated to cover EPS.
Check out Signs By Benchmark at our website – www.SignsByBenchmark.com!
Benchmark Foam goes LEAN!
6/29/2007
Benchmark Foam, Inc. is in the early stages of implementing LEAN manufacturing in the Watertown plant. LEAN is a set of management practices based on the Toyota Production System. Lean manufacturing, driven down to its simplest form, is VALUE MANUFACTURING.
Lean does not mean to do more with less, but to do more with the same. This is done by eliminating "muda," the Japanese word for waste.
There are eight wastes that are being targeted for elimination at BFI: Motion, Waiting, Inventory, Overproduction, Transportation, Defects, Extra Processing, and Underutilized People.
Companies like Benchmark go LEAN to increase production, increase efficiencies, and ultimately increase the quality of their product.