Benchmark Insulated Concrete Forms Benefit Project Building 45 Homes
Benchmark ICF for Pine Ridge Indian Reservation Housing Project
Benchmark Foam enjoys being a supplier for projects that offer cost-effective and affordable housing. Last month, we shipped our Insulated Concrete Forms (ICFs) to an Oglala Sioux Lakota Housing project in Pine Ridge, S.D. that is adding 45 new single-family homes to an area that desperately needs more living space for its residents.
To accommodate the builder's schedule and needs, Benchmark packed each truckload by house lot to simplify the unloading process. That way, the installation crew simply took the closest pallets of labeled product to have exactly what they needed to complete that house lot foundation. The choreographed deliveries paid off well by keeping the contractor on schedule.
To ensure there were no problems while finishing setup and during concrete pour, Benchmark Foam sent its representative to handle any on-site questions – another perk of ordering from Benchmark Foam.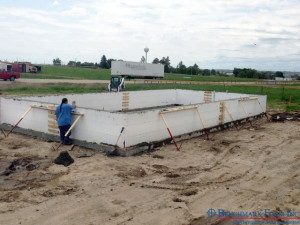 Once the ICF foundations are complete, prefabricated three-bedroom homes will be placed in hopes of finishing this phase of the housing project in 2016. Each home will eventually be rented by tribal members.
Helping projects like the Oglala Sioux Lakota Housing rings true to Benchmark's core values. We are honored to be able to help a fellow South Dakota community offer energy efficient homes. To find out how Benchmark Foam products can benefit your next project, call us at 800-658-3444.