Custom Sculpted Cellular Plastic EPS Foam Architectural Fence Posts and Panels
Our Signs By Benchmark (a division of Benchmark Foam) team recently completed a unique architectural accent project. Turning the design into reality was full of challenge and enjoyment as they set about creating multiple panels and posts for installation as a unique, architectural fence. The fence is now installed, so we wanted to share the details of the highly successful project created using EPS expanded polystyrene foam.
Each 132" wide x 47" high panel was sculpted with a debossed grass design. Installed between classic style 30" wide x 60" high posts, the panels turn an everyday fence into a work of art.
The next step will be to install feature sconces and LED lights hidden in the top cap that will wash light all the way down the surface of the panels.
"It's an exciting architectural accent piece," said Travis Cantwell, Signs By Benchmark Sales Representative. "The end user is more than happy with such a one-of-a-kind fence."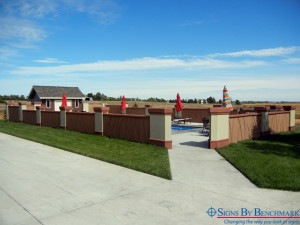 Signs By Benchmark's cellular plastic architectural accents are quickly growing in appeal with end customers. Sign shops are finding it pays to check out multiple customer needs when visiting a new sign installation site. Packaging an accent with a sign order opens a whole new world of profitability and customer service.
Give the Signs By Benchmark team a call today at 800-658-3444 or 605-886-8084 to discuss your ideas for a one-of-a-kind accent that will enhance your property or that of a customer.
Click here to view larger, additional photos of this project.