Insul-Skirt
Expanded polystyrene (EPS) provides excellent R-value to insulate against heat loss or cold penetration. Use Benchmark Foam Insul-Skirt insulating RV skirting to keep campers, motorhomes, travel trailers and other recreational vehicles warm during winter months.
Benefits
Lowers energy costs
Reduces cold drafts
Insulates underneath home
Easily assembled
Lightweight and easy to transport or store
Reusable/Not permanent
Track ensures rigidity
Hard coat finish for added durability

Accessories
Track, available in 10′ (120″) lengths
Metal Corner Braces, available in 12′ (144″) lengths
Accessory Kit includes 40 Rubber Straps, 50 Tie Connectors and 50 Ground Spikes

For a personalized quote:
Measure the full perimeter, including slideouts, of your RV or travel trailer (watch below video for how to measure)

Submit dimensions to our team via phone at 800-658-3444 or 605-886-8084 or via email at epsinfo@benchmarkfoam.com

For freight estimate, please include your shipping/delivery location. Please note: Depending on delivery location, freight costs can be nearly the same as the product itself.

View a sample personalized quote.

---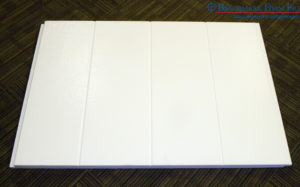 Don't like white?
Paint Insul-Skirt to match using water-based paint in the color of your choice.
Whatever the climate, install Benchmark Foam Insul-Skirt to fight the weather. Note: The higher the R-value, the greater the insulating power. Ask your seller for the fact sheet on R-values.



---

View how to measure your RV or trailer for Insul-Skirt:
View our Insul-Skirt installation video:
401 Pheasant Ridge Drive, Watertown, South Dakota 57201
Phone 605-886-8084 Toll-free 800-658-3444 Fax 605-886-8099